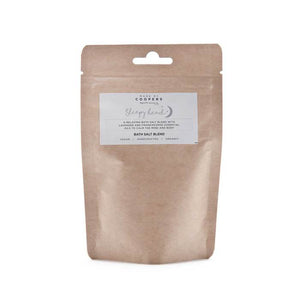 Made By Coopers Sleepy Head Bath Salt Blend - 100g
Sleepy Head bath salt blend is infused with soothing lavender and frankincense and is perfect as part of your wind down routine, to prepare for a blissful night's sleep. 
Tip! Follow up with Sleepy Head beauty balm!
Ingredients: epsom salt himalayan salt, lavender, frankincense essential oil, lavender buds
Key Ingredients
Epsom Salt - contains high levels of magnesium to relax the mind and soothe tired, stiff and aching muscles. 
Himalayan salt - contains 84 minerals to soothe and repair damaged skin and promote cell renewal. 
Lavender & Frankincense - a powerful combination of essential oils to help you to de-stress and unwind.