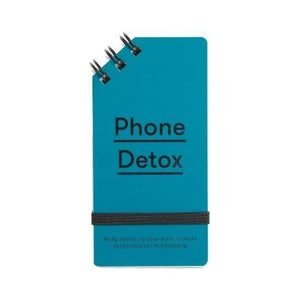 Phone Detox by School of Life
The dark truth is that it has become very hard to find anyone (and certainly anything) more interesting than one's smartphone.
This perplexing and troubling realisation has for most of us had huge consequences for our love stories, family lives, work, leisure time and health. This is why we have created Phone Detox, a palm-sized book filled with insights, ideas and meditations about the complex relationship we have with our phones. Phone Detox knows we love our phones and would never want us to give them up, but it is also gently aware that these delightful gadgets bear a hidden cost.
This flip book is a tool that aims to bring a little sanity to our closest, most intense and possibly most danger-laden technological relationship. What people are saying about Phone Detox: "Must read. Very enlightening." Robert "I got it as a birthday present for my husband; and it is currently doing rounds among our friends, as we all found its little snippets of psychologically philosophic wisdom inspiring and very useful." Mila Halftones