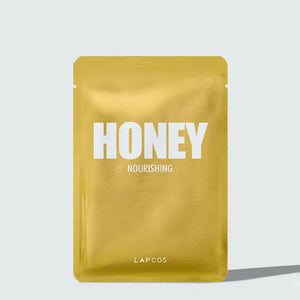 Lapcos Honey Nourishing Sheet Mask
A nourishing lyocell sheet mask powered by Honey Extract, Hyaluronic Acid + Calendula. Leaves your skin feeling...velvety soft, like the rich texture of honey.
Honey is a multitasking miracle worker for your complexion, providing skin-loving moisture and nourishment. This nurturing mask helps to restore elasticity and impart a lovely afterglow, thanks to Hyaluronic Acid's refreshing dose of hydration. Honey is also an antibacterial ingredient, and well known for its healing properties for irritated + sensitive skin, as well as eczema, psoriasis and like-minded ailments.